Introduction
"Safety and Security" is more than a critical research theme in terms of its social and economic benefits: it lies at the heart of our ability to maintain the fabric of our society. A major study on natural hazards and disasters concluded that "a significant earthquake…is probably Canada's greatest potential natural disaster" (Etkin et al 2004). To address this potential disaster, researchers from across Canada have recently formed the Canadian Seismic Research Network (CSRN) dedicated to the development of the next-generation of methodologies and structural systems to manage and mitigate the seismic risk to Canada's urban infrastructure. The Network will focus on the major Canadian urban centres that dominate our national seismic risk: Metro Vancouver, Victoria, Montréal Urban Community, Ottawa – Nation's Capital Region, Toronto and Québec City; these cities comprise approximately 2/3 of Canada's population and more than ¾ of its seismic risk (Fig. 1.1).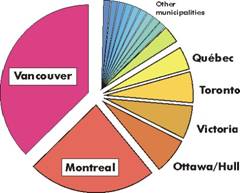 Fig. 1.1: Relative contributions to seismic
risk in Canada (source: Geological Survey of Canada)
A high percentage of urban infrastructure was constructed prior to the introduction of modern seismic provisions in the mid-1970s, and thus there is a large inventory of deficient infrastructure that needs to be identified and upgraded. It is essential that Canada's critical urban infrastructure – hospitals, schools and bridges – remain operational after a seismic event. To achieve this goal, Canadian guidelines are urgently needed for the seismic evaluation and rehabilitation of existing infrastructure. The collaboration and engagement of public policy makers, emergency managers, and emergency response teams are essential to develop effective action plans to deal with earthquake preparedness and post-earthquake response. The Network will bring together researchers and practitioners from across the country to form a multidisciplinary research team to develop a uniquely Canadian solution to a national threat of immense proportions.
Overview of the Network
Research under the Strategic Network Grant (SNG) is aimed at the development of tools and methodologies for engineers, planners, and decision makers faced with the challenging task of reducing urban seismic risk, focusing on the protection of critical infrastructure. As shown in Fig. 1.2, three interacting themes have been identified to guide the activities of the Network. Integration of the research outcomes of the themes will culminate in the development of specific deliverables to provide tangible benefits to partner organizations and ultimately to Canadians. The research and deliverables will contribute to the goals of Canada's proposed National Disaster Mitigation Strategy "to reduce risks, impact and costs associated with natural disasters, as well as to foster a disaster-resilient society".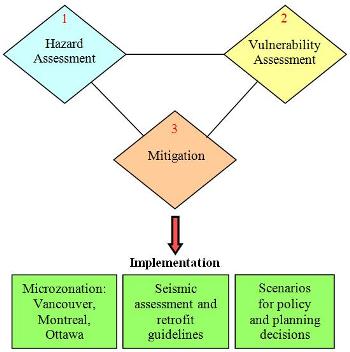 Fig. 1.2: Research Themes and Deliverables
These ambitious goals require the multi-faceted collaboration of many researchers in seismology, risk assessment, geotechnical engineering, structural engineering, public policy and disaster management, joined through a network structure focused on coordinated research deliverables. A network of 26 researchers from eight universities across Canada (University of British Columbia, University of Western Ontario, University of Toronto, University of Ottawa, Carleton University, McGill University, École Polytechnique de Montréal, and Université de Sherbrooke) will form a multi-disciplinary research team to address the varied needs and deficiencies found in different seismological environments throughout the country. The Network management will direct and prioritize the research activities to achieve the deliverables. The structure and focus provided by the Network management has been designed to ensure deliverable-driven research and is crucial to ensuring effective risk-reduction outcomes. Throughout the research program, the Network will liaise with national and international organizations concerned with seismic risk reduction. An Industrial and Government Advisory and Implementation Board, composed of representatives from the Partner Organizations across Canada, will play a critical role by ensuring the relevance and speedy implementation of research results in engineering practice and disaster planning efforts across the country. The training of highly qualified personnel is emphasized in all aspects of the Network.
The Network Approach to "Safety and Security"
In collaboration with the Partner Organizations, the Network directly addresses the NSERC Target Area of "Safety and Security". The Research Themes have been organized (Fig. 1.2) to evaluate the hazard level (Hazard Assessment), identify the truly vulnerable infrastructure (Vulnerability Assessment), and then determine means to mitigate and manage the risks to this critical infrastructure (Mitigation) in Canada's urban centres.
Planning
The Canadian Seismic Research Network has been under development for four years, starting with preliminary planning initiatives by a number of key researchers. During the course of the preparation of both the preliminary and final application the network researchers held many meetings to discuss the integration of the research. In addition, roundtable discussions were held with representatives of 30 Partner Organizations in Ottawa, Vancouver, and Montreal. The meetings were well attended by the researchers and key people from government agencies and industry. The discussions with the partner organizations were crucial in shaping the research objectives, identifying the deliverables, and forming new research linkages for the future.
Background: Need for the Network
This Network research program is timely because:
Future earthquakes in Canada are inevitable and a major urban earthquake is our greatest potential natural disaster (Etkin et al 2004);
A large inventory of existing buildings in Canada's urban regions (built before the 1970's) are vulnerable to severe damage or collapse in a major earthquake;
Significant changes have taken place to international and Canadian codes of practice for the design of new structures to resist earthquakes;
The only available Canadian guidelines for the seismic assessment of existing buildings (NRC 1992) are based on outdated technology and approaches from the 1980's;
Seismic retrofit initiatives in British Columbia ($1.5 billion school retrofit program) and Quebec are in dire need of cost-effective solutions;
The advent of performance-based seismic design procedures over the last 15 years provides a framework for the development of state-of-the-art guidelines and retrofit measures.
Individual researchers or small teams cannot respond effectively to all of these concerns in a strategic way that will reduce seismic risk in Canada's urban centres. Only through an integrated multi-disciplinary Network approach, in collaboration with stakeholders, as represented by the Partner Organizations, can these needs be addressed.
Research Program
The research program consists of the following three themes.
Theme 1 – Hazard Assessment
Theme Leader: Gail Atkinson, University of Western Ontario
Theme 2 – Vulnerability Assessment
Theme Leader: Patrick Paultre, Université de Sherbrooke
Theme 3 – Mitigation
Theme Leader: Murat Saatcioglu, University of Ottawa
The Network structure is designed to ensure integration and implementation of the research outcomes from the three themes.
Performance-Based Approach
The research within each of the themes will be coordinated through the development of performance-based seismic assessment and rehabilitation guidelines. Performance-based approaches have seen considerable development in recent years and represent the future of building codes throughout the world. "The performance-based seismic design process explicitly evaluates how a building is likely to perform, given the potential seismic hazard it is likely to experience, considering uncertainties inherent in quantification of potential hazard and uncertainties in assessment of the actual building response" (ATC 2006). A performance-based approach is particularly important for the assessment of existing critical facilities where functionality must be ensured after a major earthquake.
"First-generation" performance-based guidelines developed in the early 1990's (e.g., FEMA 273 1997) provided a framework by which a structure could be evaluated considering discretely defined performance levels (e.g., Immediate Occupancy or Collapse Prevention) linked to a selected level of hazard (e.g., 10% or 2% in 50 year probability of exceedance). These guidelines have been incrementally improved with the release of FEMA 356 (2000) and ASCE/SEI 41 (2007); however, as the engineering profession has started using these approaches many limitations have been identified. In particular, comparisons with laboratory test data have called into question the accuracy of the criteria specified by the guidelines, with most acceptance criteria being excessively conservative and resulting in potentially unnecessary and expensive retrofit measures (Elwood et al. 2007). The engineering profession has also expressed a need to develop performance measures (such as, repair costs, downtime and expected casualties) that will assist stakeholders in evaluating the relative risks associated with their facilities and improve understanding of the expected performance of structural and non-structural systems. The Network research program has been designed to provide data and tools required for the development of state-of-the-art performance-based approaches for seismic assessment and rehabilitation and overcome the limitations of the first-generation approaches. Through collaboration with the Applied Technology Council (ATC), the Network will leverage the efforts of the 10-year program, Development of Next-Generation Performance-based Seismic Design Guidelines for New and Existing Buildings (ATC-58), while addressing issues unique to the Canadian seismic environment and construction practices.
Fig. 2.1 illustrates how research in each of the Themes will directly contribute to the development of performance-based guidelines. Specific efforts will be focused on the quantification of all uncertainties throughout the process; from uncertainties in the ground motions expected at a site, to the uncertainties in the actual building response to the probable ground motions. For example, Theme 1 will provide a suite of ground motions for Canadian urban regions, accounting for various potential sources and uncertainties in the site response. Theme 2 will assess the probable response of the structure and non-structural system through improved nonlinear analysis methods calibrated to laboratory testing. Structural and non-structural testing, both conducted as part of the Network research and collected in the form of databases from past research, will also be used to assess the probable level of damage expected through the development of fragility curves for structural and non-structural components. As shown in Fig. 2.2, fragility curves relate an engineering demand parameter (EDP), such as interstorey drift ratio, to the probability of experiencing damage in excess of a specific damage state (e.g. spalling of concrete). All efforts will be made to relate the level of damage to quantities that can be readily understood by stakeholders: repair costs, downtime, and casualties. Such performance measures enable the engineer and stakeholders to easily assess the acceptability of the expected performance and are consistent with the approach of the ATC-58 project. Finally, Theme 3 will focus on innovative mitigation measures to improve the predicted performance of the structural and non-structural system.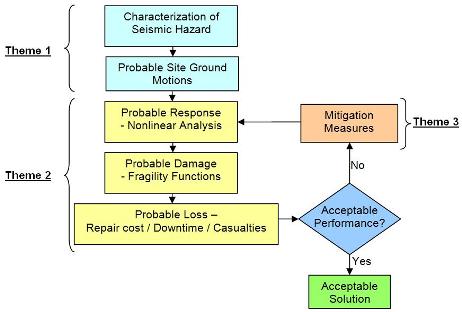 Fig. 2.1: Performance-Based Approach and Role of Thematic Research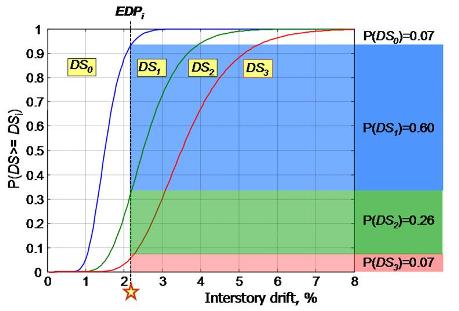 Figure 2.2: Fragility curves used to determine the probability of being in a specific damage state (DS) for a given interstorey drift demand (adapted from Moehle et al. 2005)
A description of the research projects together with a list of the researchers and Partner Organizations for each of the themes is given below. It is noted that all of the projects are interrelated; however, in order to achieve the deliverables within the five-year period, many of the projects will be conducted in parallel. Some of the projects have been sequenced, recognizing the interdependence of the activities and to ensure that key components of the research results are available when needed by other projects. Care has been taken to maximize the integration of the researchers and the research themes to ensure the sharing of results throughout the five-year term. This collaboration through a Network approach is essential to accelerate progress in risk reduction.
Theme 1 - Hazard Assessment
Theme Leader: G. Atkinson
Researchers: G. Atkinson, L. Chouinard, K. Elwood, L. Finn, P. Léger, D. Motazedian, M. Saatcioglu, K. Tiampo, R. Tremblay, C. Ventura
Partner Organizations: Public Safety and Emergency Preparedness Canada, Provincial Emergency Program (BC), Ministry of Transportation (BC), Transports Québec (MTQ), Geological Survey of Canada (GSC), Ministère de la Sécurité Publique de Québec, City of Vancouver, City of Richmond, Ville de Montréal, City of Ottawa, Institute for Catastrophic Loss Reduction (ICLR), Red Cross, Registered Engineers for Disaster Relief
Canada's major urban centres are located in regions of moderate to high seismic hazard (see figure below). The accurate assessment of hazard is a prerequisite for effective disaster planning and mitigation.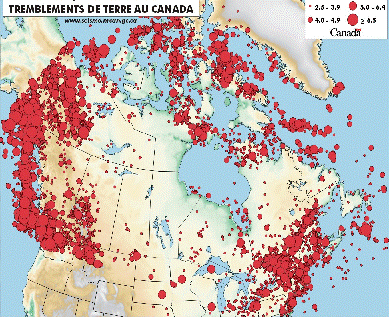 Historical seismicity in Canada (Geological Survey of Canada, GSC)

The last decade has seen impressive growth in the expertise available at institutions across Canada to provide reliable seismic hazard analyses. Recent research has touched on all facets of the seismic hazard problem, including: (i) preliminary mapping of site conditions in selected locations (eg. Hunter et al. 2002, Motazedian and Hunter 2007); (ii) evaluation of site amplification effects and liquefaction potential; (iii) new seismic hazard assessment approaches (Hong and Goda 2006); (iv) studies of earthquake ground motions, including modeling of earthquake ground motions from scenario events such as a great Cascadia earthquake (Atkinson and Boore 2006; Boore and Atkinson 2008; Atkinson and Beresnev 1998); and (v) development of prototype ShakeMaps for real-time assessment of earthquake ground motions and damage potential (Kaka and Atkinson 2005, 2006). This expertise provides the backdrop against which significant advances in hazard assessment can now be made.

Yet despite these promising developments on the research and expertise side, Canada is lagging in bringing this expertise to fruition in terms of a comprehensive assessment of seismic hazard that can be utilized by engineers and emergency managers. The current National Seismic Hazard Maps (2005 National Building Code of Canada; Adams and Halchuk 2003) were developed in the early 1990s and have not been updated to address the wealth of new information in the last 15 years. It is anticipated that the next new national seismic hazard maps for Canada will not be ready until the 2015 code cycle. By contrast, the U.S. National Seismic Hazard Maps were last updated in 2002 and a major update is currently underway for 2007/2008. The lack of up-to-date seismic hazard maps in Canada is not due to the lack of expertise in Canada - there are specialists that have provided state-of-the-art site-specific studies directed at particular facilities across the country (eg. Atkinson and Martens 2007). But this expertise needs to be combined and channelled, using the Network approach, in order to develop a comprehensive, non-proprietary, assessment of seismic hazard. This proposal addresses this need, focusing specifically on Canada's major cities at risk. Moreover, the efforts expended on these major cities will develop the tools, framework, methods and team to effectively extend hazard assessments to other locations across Canada.
The seismic hazard assessment program outlined in this proposal must be tackled before major vulnerability and mitigation studies can be fully justified and implemented. The research projects required to provide the specific engineering tools needed for risk reduction and planning for the 6 selected Canadian cities (Fig. 1.1) are described below.

Deliverables:
The deliverables of Theme 1 will include:
updated seismic hazard assessments for a reference ground condition for Vancouver, Victoria, Ottawa, Montreal, Toronto and Quebec City, giving Uniform Hazard Spectra (UHS) and their uncertainties for different probabilities of exceedance
time histories compatible with the UHS for several site conditions, for Vancouver, Victoria, Ottawa, Montreal and Quebec City, for different probabilities of exceedance
microzonation maps showing soil conditions and amplification factors to apply to the UHS, for Vancouver, Montreal and Ottawa
scenario ShakeMaps showing predicted extent of damaging ground motions for Vancouver, Ottawa and Montreal
seismic risk and loss assessments for scenario events for Vancouver, Ottawa and Montreal
Original aspects:
The original aspects of Theme 1 include developing improved earthquake source modelling for eastern and western Canada, the determination of probable ground motions and site amplifications (microzonation) for major urban centres, the improved assessment of liquefaction potential, and culminating in the assessment of seismic risk in targeted urban centres.
Theme 2 – Vulnerability Assessment
Theme Leader: P. Paultre
Researchers: P. Adebar, N. Bouaanani, S. Chang, L. Chouinard, C. Christopoulos, K. Elwood, T. Haukaas, S. Koboevic, D. Lau, P. Leger, F. Légeron, B. Massicotte, D. Mitchell, G. McClure, D. Palermo, P. Paultre, J. Proulx, C. Rogers, M. Saatcioglu, R. Tremblay, C. Ventura
Partner Organizations: National Defence, Public Works and Government Services Canada, Building and Safety Policy Branch (BC), Ministry of Transportation of BC (MoT), Transports Québec (MTQ), TransLink, Read Jones Christoffersen Ltd., Jones Kwong Kishi Structural Engineers, Buckland and Taylor Ltd., Halcrow Yolles, BPR Inc., Carruthers and Wallace Consulting Structural Engineers, Adleleian Allen Rubeli Ltd., GENIVAR, Dessau Inc., Sandwell Engineering Inc., Canadian National Railway (CN), Vancouver Fraser Port Authority, Cement Association of Canada (CAC), Canadian Institute for Steel Construction (CISC), Canadian Precast/Prestressed Concrete Institute (CPCI), Institute for Catastrophic Loss Reduction (ICLR).
Current seismic evaluation methods lack the refinement necessary to identify the truly vulnerable structures, and hence are ineffective due to the large number of existing infrastructure that would be identified as deficient and the high cost of retrofit. To overcome this impediment to seismic risk reduction, the concept of performance-based design will be applied to the evaluation and rehabilitation of existing, deficient infrastructure. The vulnerability assessment consists of the evaluation of the actual state of a structure, with consideration of uncertainties of structural performance, and the need for seismic retrofit to conform to a required performance level. For critical infrastructure, such as hospitals, schools, and lifeline bridges, stringent performance-levels must be achieved to ensure that the infrastructure remains fully operational after a major earthquake.
Performance-based Assessment of Existing Structures
Detailed assessment of existing infrastructure:
Careful evaluation and retrofit provides a major challenge to designers, due to: uncertainties on the performance of the existing structure; - the need to keep the facility open during retrofit; - the trade-off between cost and performance level; - and the uncertainty on the performance of retrofits. The multidisciplinary network approach will provide comprehensive tools to ascertain the seismic hazard (Theme 1), to characterize the responses of deficient structures and establish acceptability criteria and performance levels (Theme 2), and to develop cost-effective retrofit techniques (Theme 3). Full-scale sub-assemblages, representative of components of structures, as well as full-scale structures, will be tested in the Network laboratories to develop behavioural models to be used in the detailed assessment of deficient structures. The Network unites the specialized experimental facilities and complementary equipment such that the experimental phase of the research program can be accomplished. Performance-based design principles together with tools developed to assess the earthquake hazard in different urban regions of Canada (Theme 1) will be applied to the evaluation of existing structures.
In-Situ Testing of Existing Structures:
An innovative approach using dynamic in-situ testing of existing structures will be used to study the effects of foundation-structure interaction and interactions between different components (soil-structure, non-structural components, role of expansion joints and support conditions, etc.). This procedure is useful in identifying both the periods of vibration and the degree of damping of existing structures. These in-situ tests will be carried out under forced vibration and ambient vibration. The applicability of ambient vibration testing will be investigated as these types of tests are less expensive and can be carried out rapidly. Specialized finite-element programs will be used together with the experimental results to determine the response of different structures to varying levels of earthquake excitation. This technique is also very useful in updating finite element models of complete structures to properly reflect the actual structural conditions. These models include different interaction phenomena, non-linear behaviour and damage mechanics. These programs are crucial in a performance-based design where it is necessary to predict the complete behaviour of a structure under seismic excitation starting with low-level damage (cracking, spalling) and progressing through significant damage (yielding) to complete failure.

The Network will also collaborate with Ministries of Transportation and municipalities to instrument a few key bridges to monitor their responses. In-situ testing will also be applied so that changes in the structural conditions can be monitored.
Lessons from Past Earthquakes:
Structural deficiencies were noted and described by the applicants on a number of earthquake site visits to damaged regions. These site visits included the 1985 Mexico earthquake, the 1988 Saguenay earthquake (Québec), the 1989 Loma Prieta earthquake (California), the 1991 Talamanca earthquake (Costa Rica), the 1994 Northridge earthquake (California), the 1995 Hyogo-Ken Nanbu earthquake (Kobe), the 1999 Kocaeli earthquake (Turkey), and the 1999 Chi-Chi earthquake (Taiwan).
Deliverables:
The deliverables of Theme 2 will include:
Inventory of structural deficiencies for Canadian buildings and bridges;
Rapid Screening Guidelines;
Archived data on the performance of deficient structural systems from world-wide research and the experimental research conducted in Theme 2 on deficiencies common in Canada;
Development of Guidelines for the assessment of the performance of existing buildings, including the assessment of operational and functional components;
Development of new provisions in the Canadian Highway Bridge Design Code for the evaluation of existing bridges and associated Guidelines to be published in the Code Commentary.
The development of seismic assessment guidelines, using performance-based procedures, for buildings and bridges, is the most important deliverable for Theme 2. The Partner Organizations have identified the need for state-of-the-art Canadian seismic assessment guidelines to assist in the complex task of evaluating existing deficient structures. Through each of the projects described in Theme 2, the researchers will first carry out essential studies on different deficient structural systems and then will develop the much needed performance-based seismic guidelines. In order to ensure the success of this key deliverable, the writing of the guidelines will be carried out by a carefully chosen core group of researchers in Years 4 and 5, in consultation with Network researchers and Partner Organizations.

Original aspects:
Original aspects of the projects in Theme 2, apart from the structural behavioural studies described below, include the specificity of seismic response for the Canadian seismic hazard, as determined in Theme 1. This includes long-duration ground motions originating from the Cascadia subduction zones in the west to the ground motions with high frequency content, typical of eastern Canada earthquakes.
Theme 3 – Mitigation
Theme Leader: M. Saatcioglu
Researchers: P. Adebar, S. Chang, C. Christopoulos, K. Elwood, T. Haukaas, S. Koboevic, D. Lau, F. Légeron, B. Massicotte, G. McBean, G. McClure, D. Mitchell, D. Palermo, P. Paultre, J. Proulx, C. Rogers, M. Saatcioglu, R. Tremblay, C. Ventura
Partner Organizations: National Defence, Public Works and Government Services Canada, Building and Safety Policy Branch (BC), Ministry of Transportation of BC (MoT), Transports Québec (MTQ), TransLink, Read Jones Christoffersen Ltd., Jones Kwong Kishi Structural Engineers, Buckland and Taylor Ltd., Halcrow Yolles, BPR Inc., Carruthers and Wallace Consulting Structural Engineers, Adjeleian Allen Rubeli Ltd., GENIVAR, Dessau Inc., Sandwell Engineering Inc., Canadian National Railway (CN), Vancouver Fraser Port Authority, Cement Association of Canada (CAC), Canadian Institute for Steel Construction (CISC), Canadian Precast/Prestressed Concrete Institute (CPCI), Institute for Catastrophic Loss Reduction (ICLR).
One of the greatest deterrents to mitigating seismic risk is the high cost of implementing effective seismic retrofit schemes. The development of cost-effective seismic retrofit techniques, suitable for the wide range of structural deficiencies is a key aspect in reducing seismic risk. The Network will focus on retrofit techniques that are applicable to the critical and "vulnerable" infrastructure identified in Theme 2.
The structural deficiencies that will be addressed include: poor concrete confinement, inadequate shear resistance, poor lap splices, inadequate connections in precast concrete buildings, poor details in steel frame construction, unreinforced masonry construction, "soft storeys" in all types of construction, and poorly designed and detailed older buildings and bridges. Non-structural deficiencies will also be addressed to ensure the functionality of critical infrastructure, such as hospitals, following a major earthquake.
The innovative retrofit systems investigated will include the use of the latest developments in high-performance materials and will be developed through collaborative experimental research projects aimed at providing practical and cost-effective solutions. The experimental research will be complemented with numerical analyses and dynamic inelastic response time-history analyses to assess the performance of new retrofit systems. Innovative seismic retrofit techniques for deficient concrete structures include: the use of fibre-reinforced polymers (FRP), high-performance fibre-reinforced concrete, external prestressing, addition of headed reinforcing bars, and added shear connectors for tilt-up and precast concrete structures. Research will be carried out to investigate the use of FRP sheets to improve the seismic response of brittle, unreinforced masonry structures. To achieve immediate operability in critical facilities, the application of advanced energy dissipation and seismic isolation devices will be evaluated for both the structural system and deficient functional and operational components in critical infrastructure. Such devices have been used in other seismically active regions of the world (e.g. California and Japan), but have received little attention in Canada despite the opportunity for commercial marketing of the products. Seismic mitigation measures for critical systems, such as electric power and water distribution systems and transportation systems, will be investigated in collaboration with major utility companies and agencies. The implementation of retrofit techniques will rely on the support of governments and industry. The research will include examination of the barriers to that support and methods of promoting it.
The Network will build upon a very successful project being carried out by Network researchers at UBC on providing cost-effective solutions to the $1.5 billion seismic retrofit program faced by the BC Ministry of Education. This project provides an excellent model for the Network to address the seismic retrofit of critical structures (e.g., hospitals, schools, bridges, electrical and water distribution systems) across the country.

Deliverables:
The deliverables of Theme 3 will include:
Cost-effective retrofit techniques (all of Theme 3)
Canadian seismic retrofit guidelines for buildings
Seismic retrofit provisions for the Canadian Highway Bridge Design Code
Canadian seismic retrofit guidelines for operational and functional components
Case studies of performance-based retrofit projects.
Theme 3 will build on research conducted in Themes 1 and 2, with the researchers developing performance-based seismic retrofit guidelines for deficient structures in Canada. These retrofit guidelines will serve as a companion to the assessment guidelines developed in Theme 2 and will be developed principally by a core group of researchers, in consultation with Network researchers and Partner Organizations.
Original aspects:
The original aspects of Theme 3 include developing cost-effective retrofit techniques, innovative seismic protection devices and the development of seismic retrofit guidelines for Canada. This theme will also provide guidance for the consideration of trade-offs associated with different degrees of retrofit to enable the management of seismic risk facing critical facilities.
Workshop on the Seismic Isolation and Damping of Bridge Structures
The following presentations are available as PDF downloads:
Workshop 2011 Final Program CSRN Isolation_Damping_Bridges
Workshop May 26 2011 - 01 Dion
Workshop May 26 2011 - 02 Legeron
Workshop May 26 2011 - 03 Brisebois
Workshop May 26 2011 - 04 Daneshvar
Workshop May 26 2011 - 05 Koval
Workshop May 26 2011 - 06 Fortier-Velev
Workshop May 26 2011 - 07 Montminy
Workshop May 26 2011 - 08 Guizani
Workshop May 26 2011 - 09 Martel-
Workshop May 26 2011 - 11 Matusewitch
Workshop May 26 2011 - 12 Lapalme
Workshop May 26 2011 - 13 Archambault-Ladicani
Workshop May 26 2011 - 14 Lawrence
Worskhop Bridge Isolation May 26 - Participants (.xls)